The group's work during the period 2009-2010 had the following purpose and goals:
It should be possible to study for at least one civil engineering orientation or an MSc program within a research subject in all six theme areas in at least one of the four universities.

MSc programs and graduate education are to be given with sufficient scope to fill the national needs, and they must be internationally competitive.

The respective theme group and basic education group should also work for the design of relevant and comprehensive teaching materials of good quality which are made available to all the seats of learning that take part in the collaboration.

Companies, authorities and research financiers in the built environment sector are expected to contribute to a national dialogue about development and profiling by creating forms for orderly collaboration with Swedish Universities of the Built Environment.

It is proposed that the university administrations concerned make a routine of consulting Swedish Universities of the Built Environment before all large changes in organization and fund distribution that apply to their own university's research or education in the built environment sector.
The work pointed to the following issues as important:
The education's future (Academia | Industry's role | Implementing the education | Attracting more students)

Further education – an opportunity for industry and academia

Accreditation

Information transfer

Collaboration within theme groups (Joint use of resources within a theme | Improvement of pedagogy and quality)

Factors that hinder coordination (Boundary conditions differing between universities| Requirements of economy and efficiency | Change toward project-oriented education | Coordination calls for large resources | Routines of study administration that hinder coordination)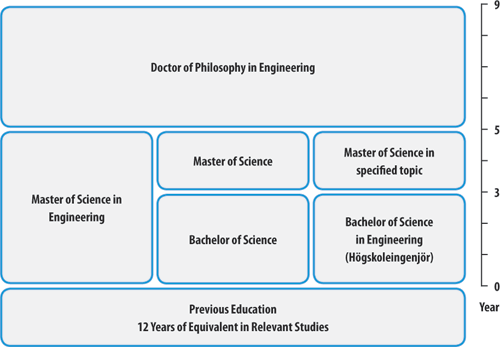 Description of different study paths within the engineering education. Different universities have
chosen to prioritize different paths but the main tracks are for the graduate engineer and civil engineer.

Members in the group